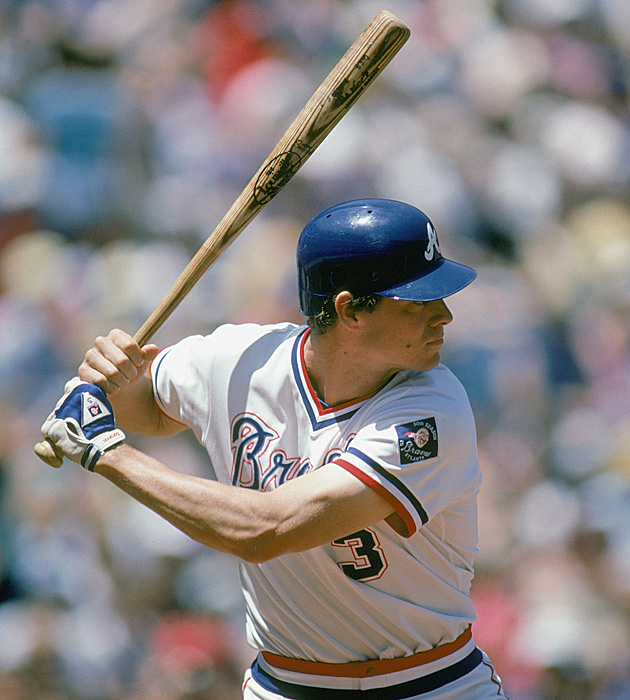 Dale Murphy is regarded by many as one of the premier players during the 1980s. His best years were with the Atlanta Braves, appearing in the All-Star Game seven times, and leading the National League in home runs and RBI twice; he also led the major leagues in home runs and runs batted in over the 10-year span from 1981 to 1990. He led the National League in games, at bats, runs, hits, extra base hits, RBI, runs created, total bases, and plate appearances in the 1980s. He also accomplished a 30-30 season in 1983, at the time only the 6th player since 1922 to do so. His 1983 MVP year is the only time in major-league history a player has compiled a .300 batting average, 30 home runs, 120 runs batted in, 130 runs scored, 90 bases on balls, and 30 stolen bases with fewer than 10 times caught stealing.
In addition, Murphy also won five consecutive Gold Glove Awards, and won two consecutive MVP awards in 1982 and 1983, making him one of only four outfielders in major league history with consecutive MVP years, and the youngest ever to do so at the time.
His professional baseball career began in 1976 and ended in 1993; he also played for the Philadelphia Phillies and Colorado Rockies franchises. He finished his career with 398 home runs (19th in MLB history at the time of his retirement) and a .265 batting average. He reached the playoffs only once, in 1982, where the Braves were eliminated in the first round by the St. Louis Cardinals. His jersey number "3" was retired by the Atlanta Braves on June 13, 1994.
Murphy's clean-living habits off the diamond were conspicuous in a league wracked by illegal drugs and salary controversies. A devout Latter-day Saint, or Mormon, Murphy did not drink alcoholic beverages, would not allow women to be photographed embracing him and paid his teammates' dinner checks (as long as alcoholic beverages were not on the tab). He also refused to give television interviews unless he was fully dressed. Murphy had been introduced to the church by Barry Bonnell, a teammate early in his career.
After his baseball career ended, Murphy became more active in the Church of Jesus Christ of Latter-day Saints. From 1997 to 2000, he served as president of the Massachusetts Boston Mission of the church. Murphy was at one point said to be considering a run for Utah governor in 2004, but failed to generate enough interest within the Republican Party.
In 1997, Dale was inducted into the Oregon Sports Hall of Fame & Museum. In 2008, he was appointed to the National Advisory Board for the national children's charity Operation Kids.