UAC and it's affiliate leaders strive to schedule interesting, meaningful, and educational topics on convention agendas.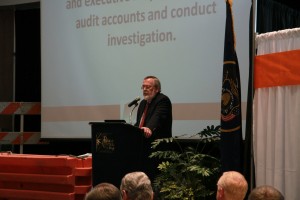 About half of our content is generated and delivered from within – members sharing and presenting information with other members. But the other half comes from outside resources, including state and national officials and agency leaders, as well as our business service provider friends.
​These presentations are not marketing-oriented but rather to help strengthen understanding and to introduce ideas and solutions for solving problems (small and large).
​As such, if your company, agency or organization would like to propose a topic idea or actual full-length presentation please click here and send us your proposed topic and information.
​ Please understand that this is in no way a guarantee your request will be granted. Depending on the dynamics of the conference, available time, timing of your offer, and group you would like to present to it may be easy or difficult to be accepted.
​For our part, UAC is the clearing house for receiving all requests. Upon receiving them they are forwarded to the appropriate scheduler. Each affiliate group has their own scheduler that communicates frequently with UAC so that all agendas can be compiled and delivered to the general membership.