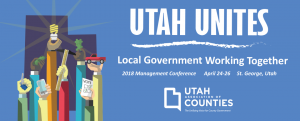 Registration for the 2018 UAC Management Conference, April 24-26 at the Dixie Center in St. George, is now open.
This year's theme, "Utah Unites" is a nod to our first-ever collaborative conference with the Utah League of Cities and Towns. This year, Thursday, April 26 we will be holding joint general and breakout sessions with our friends at the League.
UAC's conference will begin Tuesday, April 24 in the afternoon with our usual affiliate breakout sessions that continue on into the next day, interrupted by a general luncheon of the UAC Membership on Wednesday.
Thursday morning will be a general session of cities and counties, followed by several generalized breakouts of interest to all elected officials and then a general luncheon that includes the keynote speaker.
We're also working details for a Wednesday even joint city/county social event.
Click here to register for the conference and get more details. Also, you notice lodging options aren't as favorable due to very large contingency of conference attendees and time of year. Not only will UAC and the League be having meetings. There's also a City Manager and Justice Court Conference that week. However, we did manage to find lodging that should fit everyone's budget and we appreciate your understanding.